Why clean your concrete?
Cleaning your existing concrete will enhance and add value to your property.  If your concrete is older than one to two years, you will probably begin to notice places of algae and moss growing on the surface.  Your driveway will only have small spots of mildew, moss, and algae spots that are widely spaced at first.  The blemishes won't seriously impact the look of your concrete but will increase until the majority of your concrete's surface is covered.
Mildew, mold, and algae can be hard to clean off of surfaces when allowed to grow for long periods of time.  Consistent cleaning can save money over a period of time.
As you put deicer on your concrete surfaces and as you drive on them, harsh chemicals, salts, and other grime begin to build up.  Concrete is a porous surface.  When those substances remain on your concrete, they will begin to filter down into the body of your concrete.  This will compromise the integrity of your driveway, patio, porch or other structure.
Cleaning your concrete will help rid the surface of chemicals and salt that may harm and greatly reduce the life of your concrete.
Leave your neighbors and friends in awe of your immaculate property, get your concrete cleaned today.
Why seal your concrete?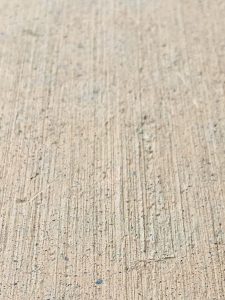 Concrete is a porous material and harmful chemicals, deicing salt, and water need to be kept out.  When water penetrates the surface, cracking or surface flaking will develop, due to expanding during freezing.
Sealing the surface of your concrete with a specialized concrete sealant will prolong the li
fe and look of your driveway, patio, sidewalk, or porch.  At Clean & Seal Solutions, we only use the best concrete sealer.  We want to help you keep your concrete looking and preforming the best that it possibly can.
Cleaning the surface before sealing will remove harmful chemicals instead of trapping them in during the sealing process.  Cleaning will also allow the sealer to penetrate the concrete properly to protect your structure.
Make the important decision to clean and seal your concrete today!